---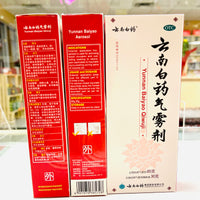 云南白药Yun Nan Bai Yao 115 ml spray
Bao An
The fine mist spray of Yunnan Baiyao Qiwuji Aerosol Spray helps to gently relieve blood circulation, pain, swelling, and blood stasis. The neutral temperature allows this product to be used on acute injuries even when there is swelling. Yunnan Baiyao Aerosol breaks up accumulations of stagnant blood and fluids and is easier to apply than the powder form.
Key benefits:
- Helps coagulate bleeding
- Relieves pain and swelling
Traditional Chinese medicine benefits:
- Helps blood stasis and pain
- Activates blood circulation
- Reduces swelling

What else you need to know:
Yunnan Baiyao/Paiyao is the best-known household Chinese medicine used to stop bleeding and promote healing from wounds or internal injuries.
This product comes with two cans of different potencies. Yunnan Baiyao Aerosol Baoxianye (red-colored can) is intended for use in cases of serious trauma, e.g. severe sprains, muscular strain, bruising. Spray immediately on the affected area. Should relief not be felt within two or three minutes, re-apply. Do not use on open wounds or cuts.
If relief is not complete from applying the Yunnan Baiyao Aerosol Baoxianye, regularly apply the Yunnan Baiyao Aerosol Spray (cream-colored can) at four-hour intervals until relief is felt. Additionally, this spray has proven extremely effective in the treatment of arthritis, muscular aches and pains (Including backache), and stiffness of limbs.
云南白药气雾剂
活血散瘀,消肿止痛。用于跌打损伤,瘀血肿痛,肌肉酸痛及风湿性关节疼痛等症。
使用方式:外用,喷于伤患处。使用云南白药气雾剂,一日3—5次。凡遇较重闭合性跌打损伤者,先喷云南白药气雾剂保险液,若剧烈疼痛仍不缓解,间隔1—2分钟重复给药,一天使用不得超过3次。喷云南白药气雾剂保险液间隔3分钟后,再喷云南白药气雾剂。
使用云南白药气雾剂红瓶时,应先摇一摇,以激活药液和附加剂,喷嘴最好离皮肤5-10厘米,喷射时间应限制在3~5秒钟,以防止冻伤皮肤。
皮肤受损者以及皮肤过敏者都不应使用,孕妇禁用。